We love volunteers, thank you!
November 23rd, 2021:
Thank you to everyone that donated a pie to our staff appreciation pie event! Big thanks to Julia, Jonelle, Jen, Stacie, and Jeff for helping to gather pies and set-up tables and tents for us this morning.
November 19th, 2021:
Thank you to Nicole McKnight, Jen Hirman, Jonelle Radford, Megan Swander and Katie Stark for popping corn and passing out popcorn to all students!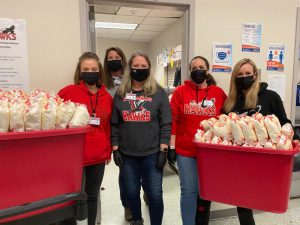 October 26th, 2021:
Thank you to Julia Atkins, our Staff Appreciation Chair, for treating our staff with treats this week!
October 18th, 2021:
Thank you to our Heatherwood PTA members for volunteering at the Mill Creek Community Food Bank and to Jen Hirman, our FACE/Outreach Project chair, for organizing. We love the support of our school community!
October 11th, 2021:
Thank you to Megan Swander, our Staff Grant Chair, for organizing staff grant requests and to our board and general membership for approving 17 grants! Grants can be viewed here, www.heatherwoodpta.org/classroomgrants.