Reflections is a National PTA arts recognition program that helps students explore their own thoughts, feelings, and ideas, develop artistic literacy, increase confidence, and find a love for learning that will help them become more successful not only in school but in life.
Students in pre-K through grade 12 create original works of art in response to a theme. The theme for the 2023-2024 program will be "I am Hopeful Because…"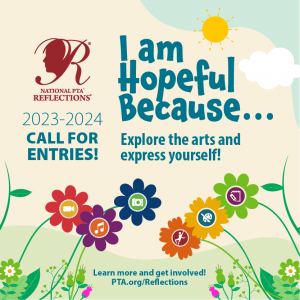 Students submit their completed works of art in one or more of the available arts categories: Dance Choreography, Film Production, Literature, Music Composition, Photography, Visual Arts. While the primary focus of Reflections is a celebration of creativity through positive recognition, finalists from local PTAs will move on to their council PTA, then finalists from councils will move on to the state round. Washington State PTA finalists who receive an "Outstanding Interpretation" award will advance to the National PTA round.
The deadline for entries is: November 3rd, 2023
Entries can be submitted online at: reflections@heatherwoodpta.org or turned into the office with their entry submission form during the week of October 30th-November 3rd.
For more information about program details and student entry rules visit: https://www.wastatepta.org/events-programs/reflections/
For Questions about the Heatherwood's PTA Reflections Program contact Charleen Van Horn at: reflections@heatherwooddpta.org
Video about reflections: https://www.youtube.com/watch?v=8FlgjlxKQms