Classroom Grants
Classroom grants are an important reason why we fundraise each year. Each year, if funding is available, Heatherwood staff members are given the opportunity to apply for a classroom grant. All grants are reviewed by the PTA and either funded, partiality funded or denied depending on request and funds available. We typically offer grants in the fall and in the spring.
Fall 2021 Grants:
$300 for purchase of positive behavior incentive items (Hawk Bills program)
$1,000 for purchase of sports balls for use at lunch recess
Ms. Thomas, Moby Max 1-year subscription, $396
Mr. McCoy, podcast equipment for ASB, $475
Ms. Ramirez, button-maker for ASB, $86
Lifetime Fitness teachers, large, portable, rechargeable indoor/outdoor timer, $431
Mrs. Watson, 1-year subscription for Gimkit for All Live, $60
Mrs. Stevenson-Bonilla, banner to display the standards and I CAN DO Statements for each level of learning, $100
Heatherwood Community Team, incentive items to support the PBIS program, $300
Ms. Mills, Go! emerge boxed set of books plus teacher resources, $640
Mrs. Calderon, library books for the "Hawks Read" program to promote literacy at Heatherwood, $1,500
Ms. Lee, 6 wobble stools, $330
Mr. Bell, 35 calculators for math support, $330
Ms. Pratt, set of 20 books designed to support the independent classroom reading program, $133
Ms. Camp, 35 Snark ST-8Hz tuners for tuning instruments, $540
School Counseling, Items for the first Mental Awareness Week including green ribbons, "Stop the Stigma" stickers, mental awareness stickers, and pop it/fidget prizes, $280
Ms. Cameron, classroom and graphic novels to practice reading skills from the special resource curriculum and individual reading/practice, $300
Spring 2021 Grants:
Mrs. Herber, new library books for the "Hawks Read" program, $1,000
Mrs. Stevenson-Bonilla, Spanish books, $67
Ms. Lanigan and Mr. Corbett, 6th grade science demonstration materials, $400
Mrs. Stauffer, Achieve classroom materials, $140
Fall 2020 Grants:
Mrs. Herber, new library books, $1,000
Ms. Pratt, 7th Grade subject related books, $243
Ms. Camp, bow guides for orchestra students, $197
Ms. Lanigan and Mr. Corbett, 6th grade science BrainPOP subscription, $230
Mrs. Stevenson-Bonilla, authentic Spanish resources, $47
"A massive THANK YOU to the Heatherwood PTA for funding a class set of Tiffany Jewel's "This Book is Ant-Racist." I'm excited to use this text for a unit in the spring." -Ms. Pratt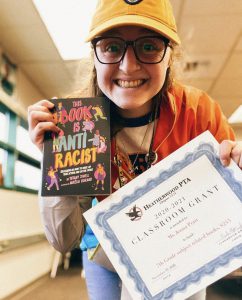 Mrs. Herber, our classroom librarian, receiving her $1,000 grant for books!
Spring 2019 Grants:
Resistance straps for strength training in lifetime fitness classes, $700
Classroom set of scientific calculators and small white boards, $550
Funds to purchase materials for open lab days; science fair materials, $600
Sensory support items: noise cancelling headphones with microphones, pencil toppers, texture seat cushions, $250
6th grade Book Madness celebration, $200
6th grade Book Madness book purchases, new titles to include int he challenge, $1,500
Fall 2018 Grants:
Low level classroom library books, $300
Kore wobble chairs (provide active seating), $450
Battle of the Best Sellers Celebration, $150
Additional books for 8th grade reading challenge, $1000
6th grade reading challenge, $500
WE video subscription for 30 students, $275
"Drumming to the Beat" program (drumming on yoga balls), $550
Additional playground balls, $250
Headphones for classroom, $145
12 month Moby Max subscription for 1 classroom, $285
From our teacher librarian, Mrs. Herber...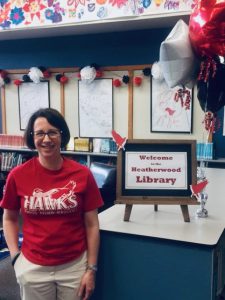 "The PTA has truly funded Heatherwood Library Programming; providing a much richer literary experience for students. The last four years, 6th, 7th and 8th grade students gobbled up titles funded by the PTA while participating in the 6th Grade Book Madness, 7th Grade Battle of the Bestsellers, and the 8th Grade Hawks Read program. Students loved celebrating those reading successes with PTA funded parties!  This year, many of the top titles from that program are combined with new titles in the new school wide "Hawks Read" program. In addition to numerous reading and celebration grants, Heatherwood PTA funded a collection of Legos for the library's lunchtime makerspace. These are a main attraction!"
Quotes directly from Heatherwood students:
"I have grown extraordinarily this semester.  I have improved my genre picking abilities and my ability to stay away from technological distractions.  I have started to read more non-fiction books and actually like them."
"I have become a more stronger reader because I read faster than I did in the first semester.  My pages throughout the week became bigger and bigger."
"My favorite books I have completed this year are: Girl, Stolen, The Compound, and The Fallout.  I really liked these because 1) the style of the two authors, and 2) all three of the books made me appreciate what I have more."
"I have grown to enjoy reading a lot more to the point where I'm reading almost every night."
"Over this semester, I have grown a ton as a reader in many different ways.  I have discovered new books and authors.  I think I have learned the most about reading this semester than any other one."
"How I grown is that I found what type of book that I like to read."
"I grew more as a reader because…I was choosing good books that I enjoyed and was finding time to read them easily."
"I have definitely moved out of my comfort zone and came out to really like reading."
"My biggest growth I feel I've accomplished is how I have improved on my reading fluency.  I always sometimes get too focused!!  Isn't that great?!!"
"I think this semester alone I have grown in reading more than I ever have…but I think I have most grown with my speaking because instead of using words like 'big' I would use something like 'gigantic' or 'gargantuan' or 'enormous'."
"My favorite book that I read this semester is Savvy because I like adventure books and what made this book cool is that their family when they turn a certain age they get power."
"I am really happy this semester because not only I met my goal but I also tried reading new books…and also really long books that at the beginning of the year I didn't use to read but that now I read every day and I love them."
"…I have read challenging and new books this year and I'm proud of these books to have read this semester."
"I read Compound, Variant, Girl Stolen, Disappeared, and Chains, and my favorite one was Compound because it had a lot of suspense to it, and I couldn't stop reading because the story kept building to the point where they leave a cliffhanger which made me really anxious to read the next book Fallout."