Classroom Grants
Classroom grants are an important reason why we fundraise each year. Each year, if funding is available, Heatherwood staff members are given the opportunity to apply for a classroom grant. All grants are reviewed by the PTA and either funded, partiality funded or denied depending on request and funds available. We typically offer grants in the fall and in the spring.
Spring 2023 Grants:
With your generous donations, our PTA was able to fund $2,365 in classroom grants!
Ms. Lanigan and Mr. Corbett (Science), 4 green screens with stands.
Mrs. Stevenson-Bonilla (World Language), Spanish books.
Mrs. Watson (Lifetime Fitness), 2 Omnikin ball replacements.
Ms. Moffat (Music), new band music.
Ms. Seiger (Music), Cajon drum with padded case.
Ms. West, Ms. Moffat, Ms. Seiger (Music), music by Black composers.
Mrs. Calderon (Library), new books to meet diverse reading needs.
Fall 2022 Grants:
With your generous donations, our PTA was able to fund $5,000 in classroom grants!
Mr. Aeschliman, class set of calculators.

Mr. McCoy, class set of "A Young People's History of the United States."
Mrs. 

Stevenson-Bonilla, class set of fiction books in Spanish for level 1.

Mrs. Calderon, new "Hawks Read" books for the library ($444).

Counseling team,

iPad & apps for counseling students.

Life Fitness team, d

urable goals for indoor/outdoors.

Mr. Blair, class set of "An Indigenous People's History of the United States For Young People."

Ms. Bozorth, fidget tools to aid students to stay stimulated, maintain focus and engage in the classroom environment and curriculum.

Ms. Bozorth, class set of "No Fear Shakespeare: Romeo and Juliet."

Life Fitness team, w

atches that are both pedometers and heart rate monitors.

Mr. Corbett, s

cience crystal set and supplies.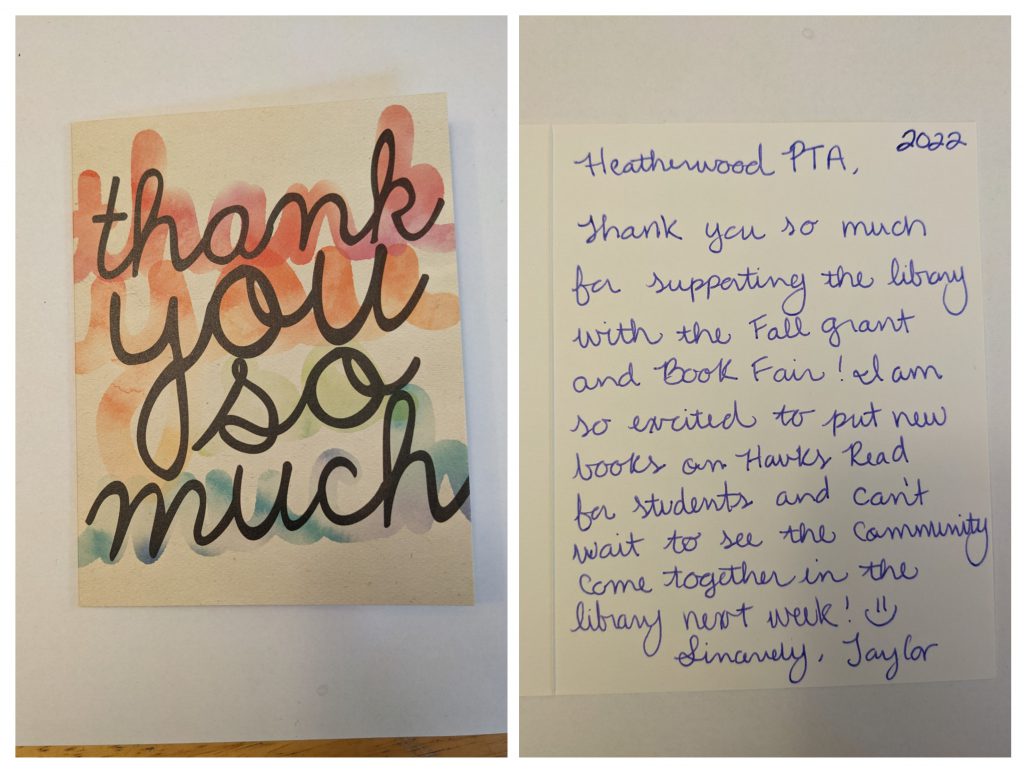 Spring 2022 Grants:
Ms. Pratt, class set (30) of "The Holocaust Reader: The Story of Nazi Persecution and the Impact of Hate on Humanity" from Scholastic.
Ms. Walker, online subscription for "Beanz Magazine."
Ms. Musselmann, 2 class Makey Makey STEAM sets. These kits are a way to create interactive art. Students work with the Scratch coding program to create music or sounds that go with your art.
Ms. Seiger, wireless, rechargeable Bluetooth speaker. We are conducting multiple onsite and offsite performances with our school choir. This speaker will optimize the experience for our choir members and the audience. We are now able to effectively rehearse and perform at shopping mall fundraisers, the cafeteria, sports events and even the school hallway.
Lifetime Fitness teachers, 8 resistance training straps used for full body workouts.
Mrs. Calderon, 4 new "comfy" chairs for the Heatherwood Library and new nonfiction books. This grant will give students a space in the school that is their own. One goal I have as the librarian is to make the library feel like a community space; I want to offer more than just books and these comfy chairs will give students a place to hangout with friends before school, during lunch, and after school. The money used for new nonfiction books will give students new, relevant nonfiction titles in their library.
Mr. Lundquist, several new woodwind and brass mouthpieces.
Ms. Camp, 100 glow bracelets! The Heatherwood Orchestras will be performing in a blacklight concert in June. Blacklight tape is attached to bows and they glow in the dark! Advanced Chamber Orchestra is playing a song that does not involve their bow - only plucking. I would like to provide them with a glowing bracelet for each hand for this song. How fun!
Ms. Loewen, 30 geometry compasses (a class set). The compasses will last for many years as this set does not have parts that will go missing.
Mr. Corbett, aluminum potassium sulfate for students to be able to make crystals. This is a supplemental activity that gets students excited about science and gives them their very own crystal to take home after. Will also purchase materials to make "elephant toothpaste" during a Science Extravaganza with Ms. Lanigan's class.
From our teacher librarian, Mrs. Herber...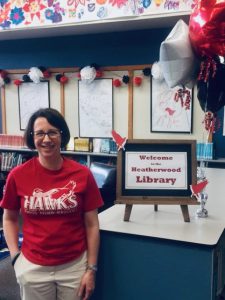 "The PTA has truly funded Heatherwood Library Programming; providing a much richer literary experience for students. The last four years, 6th, 7th and 8th grade students gobbled up titles funded by the PTA while participating in the 6th Grade Book Madness, 7th Grade Battle of the Bestsellers, and the 8th Grade Hawks Read program. Students loved celebrating those reading successes with PTA funded parties!  This year, many of the top titles from that program are combined with new titles in the new school wide "Hawks Read" program. In addition to numerous reading and celebration grants, Heatherwood PTA funded a collection of Legos for the library's lunchtime makerspace. These are a main attraction!"
Quotes directly from Heatherwood students: