Dear Heatherwood families, 
PTA fundraising this year is currently on hold given the uncertainty due to COVID19.  We will work with our school administrators and teachers to identify needs as our school year progresses.    
In the meantime, you can still support the PTA by purchasing a PTA membership here. Local PTA memberships provide us with a voice at the National PTA level to advocate for our students through the establishment of vital programs and the legislation. You will also receive our exclusive Heatherwood PTA weekly newsletter and discounts for products and services in our area! 
Lastly, please attend our upcoming PTA meetings. Our first PTA Zoom meeting this school year is Monday, September 14th at 7pm. You will hear from our Principal and new Vice Principal, who will provide updates on our remote learning model and answer any questions you may have. 
Thank you for your continued support!
Fundraising
In addition to our major FALL FUNDRAISER, "Soar to Success," there are several other ways to support our school year-round. If you shop at Fred Meyer or Smile.Amazon.com (see below for details) a percentage of your purchase will be donated back to our PTA. We also host several Dine Out for PTA events throughout the school year. Dine Out dates and locations will be posted on our calendar, our Facebook page and on our Dine Out for PTA webpage. Be sure to also clip "Box Tops" from your cereal boxes and other grocery items or making a donation to the Heatherwood PTA are easy ways to support the students of Heatherwood Middle School!
Why is it important to donate?
While the school district provides funding for basic educational needs across the different grade levels, there are nonetheless many important educational opportunities for which there is no money. The funding that you provide through donations to the fall fundraiser and throughout the year helps to fund student enrichment assemblies, classroom grants, student socials, staff appreciation events among others.
The programs our PTA organizes and the funds we raise are entirely made possible by your monetary donations. Just as important, is the donation of your gift of time to the school.  Many of the events we produce are not possible without parent participation.
What is the difference between PTA and ASB fundraising?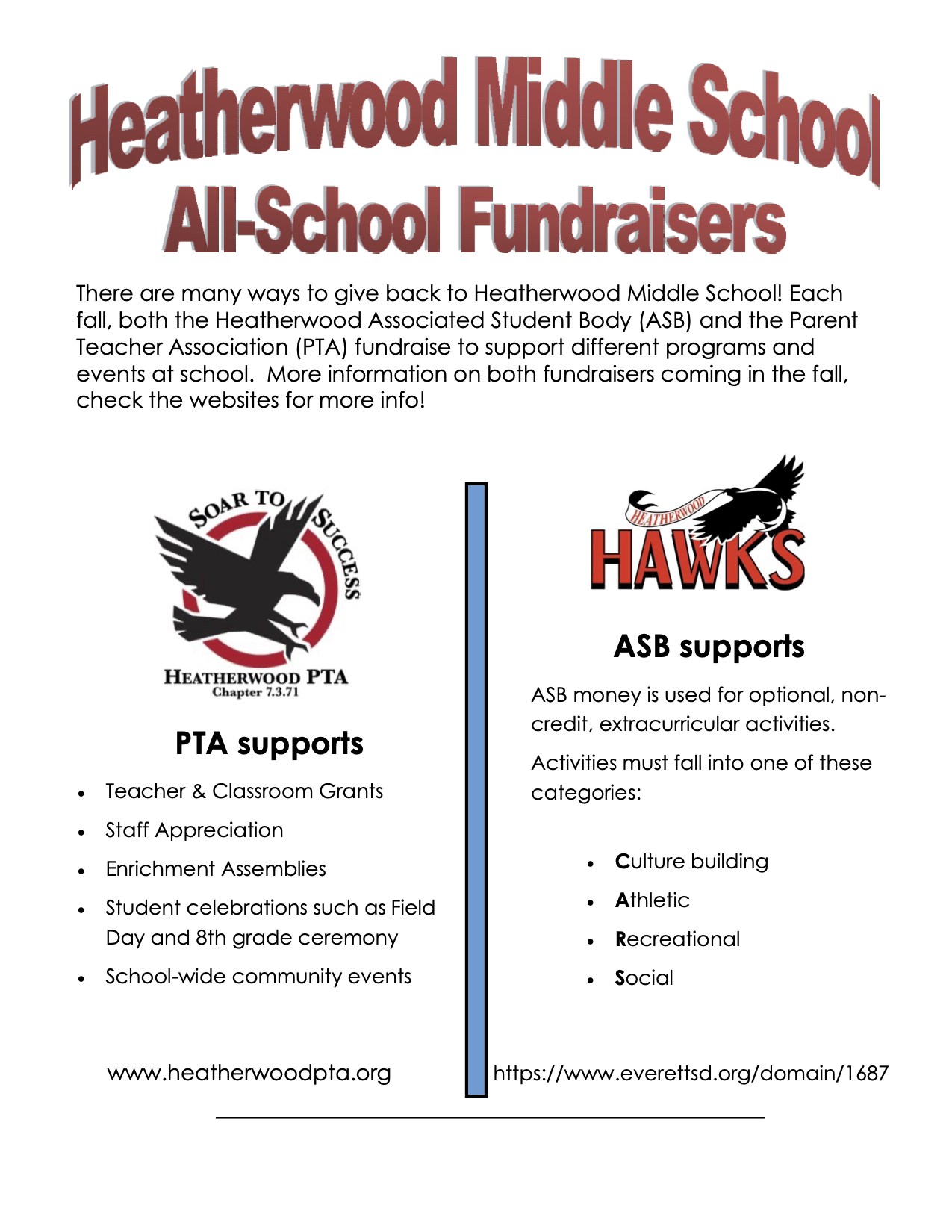 Box Tops for Education
Rewards Shopping
Dine Out for PTA
Make a donation anytime!
You can make a donation directly to the Heatherwood PTA at any time. These donations are tax-deductible and all proceeds will go directly to the PTA. You can donate online via our store or send an email to gro.a1618498408tpdoo1618498408wreht1618498408aeh@g1618498408nisia1618498408rdnuf1618498408
If you would like to send in a check. Please make all checks payable to Heatherwood PTA. Thank you for supporting Heatherwood PTA!  If you have any fundraising questions please email our VP of Fundraising, gro.a1618498408tpdoo1618498408wreht1618498408aeh@g1618498408nisia1618498408rdnuf1618498408.