Do you shop at Fred Meyer?
Thank you Fred Meyer and all the Heatherwood PTA supporters in Fred Meyer's new Community Rewards program!  We recently received a check from Fred Meyer for $306.31 earned from 53 households during the last quarter. That's AWESOME!!! This past School Year, HW PTA received $743.13 through Fred Meyer's Community Rewards program. This is an easy way to support Heatherwood PTA just by doing your everyday shopping!
If you haven't already registered (it's easy and takes a couple minutes to do), please consider registering your Fred Meyer Rewards Card to support Heatherwood PTA by using the below link. Then, when you enter your registered phone number or show your Fred Meyer Rewards card at checkout, you will still earn your own rewards and fuel points while helping Heatherwood PTA support Heatherwood. To protect your privacy, Fred Meyer does not share your personal information. You can look us up as: Heatherwood PTA or #82156 . https://www.fredmeyer.com/topic/community-rewards-4 .  NOTE: YOU MUST RE-ENROLL EACH YEAR! Also, the Fred Meyer Rewards Card is NOT a credit card. For questions, please contact us at info@heatherwoodpta.org
---
AmazonSmile Program
Here's an easy and quick opportunity for us to earn some free $$$ with AmazonSmile. AmazonSmile is a website operated by Amazon that lets customers enjoy the same wide selection of products, low prices, and convenient shopping features as on Amazon.com. The difference is that when customers shop on AmazonSmile (smile.amazon.com), the AmazonSmile Foundation will donate 0.5% of the price of eligible purchases to the charitable organizations selected by customers. Heatherwood PTA is a charitable organization registered with the AmazonSmile Program. The first time you visit the website, you will be prompted to select a charitable organization that you would like to support. There are no fees or costs to customers or charitable organizations for participating in this program. What a great way to support Heatherwood! Click here to get started: https://smile.amazon.com/ch/91-1453333
---
Bartell Drugs Rewards Programs
Please take a couple minutes to signup to support Heatherwood PTA!
You can help Heatherwood PTA earn donations just by linking your Bartell Drugs Card to 'Heatherwood PTA' and then shopping with that card or entering your phone number at checkout.
It's Quick and Easy — please signup at https://secure.escrip.com/supporter/registration/index.jsp and select 'Heatherwood PTA'. Then, every time you shop and use your Bartell Drugs Card or give the cashier the phone number associated with your card at checkout you are helping Heatherwood PTA earn a donation! You can even select up to 3 organizations to support, if you choose.
If you can't find your rewards card, call Bartell Drugs at 800-931-6258 to get your number or again, just give the cashier your phone number at checkout. Or, if you do not have a Bartell Drug card, they are available at the Customer Service desk of at any Bartell Drugs store. For more information, please contact hwptafundraising@gmail.com .
---
Would you like to help your student by shopping online?
At the eScrip Online Mall, you will get the same great deals as you would at over 700 merchants' websites and they will contribute up to 10% or more of your purchases to HW PTA. To shop at the eScrip Online Mall, please click the eScrip logo below: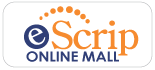 For more information, please click here .